Our most popular Dual Band Pro Repeater kit is getting more muscle under the hood and adjustable gain! The Wilson 801262 DB Pro amplifier is getting a power boost and will have individual adjustments for the 800/850MHz and 1900MHz bands!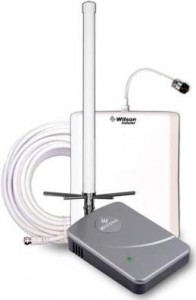 The Dual Band Pro (DB Pro) Amplifier, part #801262, which is the main component in our DB Pro Repeater kits, will contain a new power section that increases the signal strength by -3db. Also the gain for each individual band (800/850MHz Cellular band & 1900MHz PCS band) can be adjusted down as needed to compensate for any unusually strong signal by an unknown carrier. This Adjustable Gain feature will allow the DB Pro amplifier to be installed in many more locations than previously deployed. The need for a costly attenuator will be minimized because the gain can be lowered in locations where a strong (and unknown) carrier may be too close to the site.
The DB Pro can be purchased as a complete kit with an omni directional exterior antenna, kit # 841262. Additionally, the new DB Pro Repeater Kit when purchased with a wide band agi directional antenna, kit #841263, will give the strongest possible signal to a remote location setting without adding additional cost. This may be just the solution to bring in weak voice or data signals at increasingly further distances.
In the next couple of days we will begin shipping the upgraded and more powerful DB Pro!
For more information, please see: Wilson 801262 Amplifier and Wilson 841262/841263 Repeater Kits