T-Mobile USA has discontinued its "America's Largest 4G Network" tagline after using it for the past 18 months.
"With the breadth of T-Mobile's nationwide 4G network well established, we recently moved to a network claim that reflects the network's performance and reliability, particularly with the $4 billion investment we're making and recent accolades like the PC Magazine Fastest Mobile Networks Test, which showed T-Mobile's 4G network to be very competitive with current LTE networks," wrote T-Mobile spokesperson Danielle Hopcus in response to questions from Fierce Wireless.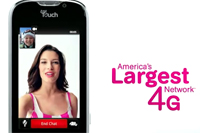 "T-Mobile became the first nationwide 4G network and began using 'America's Largest 4G Network' in marketing more than 18 months ago. Since that time, competitors have worked to catch up as we've continued to expand and strengthen our 4G network. We don't care to believe these last few POPs, and the numbers are constantly changing."
FierceWireless reported in April that T-Mobile's claim of owning the nation's largest 4G network was becoming increasingly dubious based on its rivals' network rollouts. For example, T-Mobile's claim was based on coverage of 215 million people with HSPA+ network technology–but AT&T Mobility  recently announced it covered 250 million people with its "4G" network (which spans HSPA+ and LTE technologies).
Hopcus said T-Mobile ended its "America's Largest 4G Network" claim on July 10, when it launched a new advertising effort highlighting the number of towers T-Mobile operates across the country (35,000). AT&T still claims that its network is "the nation's largest 4G network." Meanwhile, Verizon Wireless on its website claims it offers "America's fastest 4G network" and that it provides "more 4G LTE coverage than all other networks combined."
Read more: T-Mobile drops 'America's Largest 4G Network' claim – FierceWireless http://www.fiercewireless.com/story/t-mobile-drops-americas-largest-4g-network-claim/2012-07-18#ixzz216rCyYz8