Circuit-switched voice is starting to seem so passé, but it's going to be around for quite awhile. That's why companies such as InToTally and Qualcomm are developing methods to make WCDMA voice more efficient so operators can wring out additional spectrum capacity to make room HSPA and HSPA+ data services.
Though they are taking different approaches, both companies are looking to limit the amount of power used by voice communications over WCDMA so there is more spectrum available for HSPA and HSPA+. "There is a huge amount of data coming and the voice is occupying most of the spectrum," said InToTally's CEO Alvaro Lopez-Medrano.
The mobile communications industry is migrating toward VoLTE and VoHSPA, "but it will take some time before those services have the quality and ubiquity of circuit-switched voice," said Rasmus Hellberg, Qualcomm's senior director of technical marketing.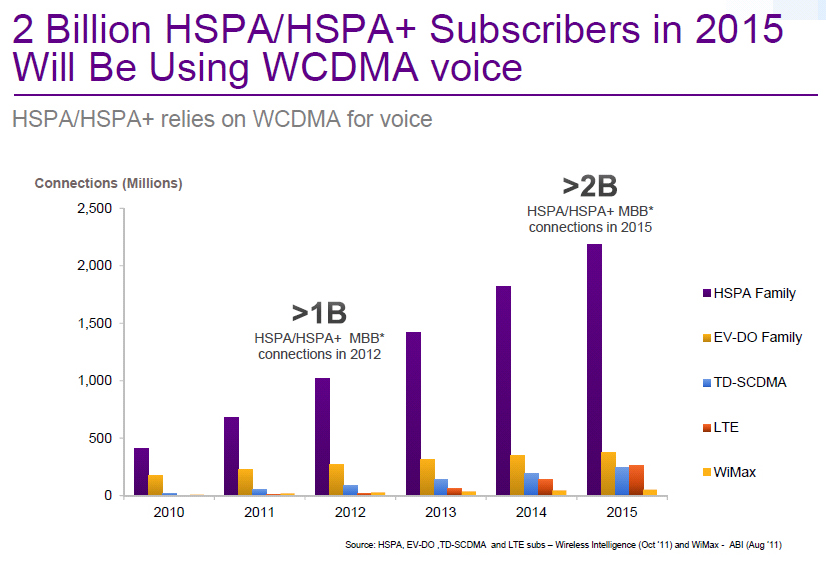 "4G is frequently promoted as the way to meet the huge demand for mobile capacity. But by 2016 only about 26 percent of subscribers will have moved to 4G networks and a hybrid solution with 3G will be essential to ensure adequate coverage for voice and data," said Sue Rudd, director of service provider analysis at Strategy Analytics.
While InToTally and Qualcomm agree on the need to improve WCDMA voice efficiency, they are tackling the issue from different angles. Further, while InToTally's proprietary approach is already available for licensing, Qualcomm is working to get its approach included in the planned Release 12 of specifications for 3GPP technologies.
Going after the outer loop
InToTally's solution is based upon solving outer loop power control issues found in CDMA and WCDMA. According to Lopez-Medrano, the OLPC sets the appropriate signal to interference ratio (SIR) target to maintain a given quality criterion, but traditional OLPS approaches based upon the Block Error Rate (BLER) are too slow to accommodate real-time power adaptation to different radio conditions, thus leading to voice communications inefficiencies.
For example, in a standard WCDMA voice call, the initial end-user device's power is set high at the beginning because the handset and base station are not yet aware of the radio conditions impacting the device. That high setting can causes unnecessary interference with other users, said Lopez-Medrano, and it takes a long time for the power loop to measure the call quality and instruct the device to power down. "We have developed a new technique that looks at a different metric that gathers and processes information much more quickly," Lopez-Medrano said.
InToTally's ToT-OLPC technology is aimed a providing faster convergence speed for the radio link between network antennas and mobile handsets, thus improving overall voice efficiency and capacity," said Lopez-Medrano. Field tests have shown a 20 percent capacity gain on average and 40 percent gain in highly saturated areas, said Lopez-Medrano, adding, "The room for improvement in the outer loop is huge."
Source: http://www.fiercebroadbandwireless.com/story/wcdma-voice-gets-another-look-hspa-takes/2012-06-13