Wi-Ex has upgraded their popular YX029 Premium Antenna, to the dual panel YX039 Premium Antenna System. The gain of the antennas has increased, boosting the signal strength and coverage area of your RepeaterStore cellular amplifier. The updated YX039 uses the YX021 800 MHz panel antenna in place of the 800 MHz yagi antenna that was in the YX029 System. This change gives better performance and is easier to install.
The zBoost YX039 Premium Antenna consists of two directional panel antennas, each with a 18″ jumper cable to connect them to an antenna combiner. The antenna combiner then attaches to a single coaxial cable for connection to the Wi-Ex Base Unit. The new YX039 System is to be used with the zBoost YX510-CEL-PCS dual band repeater kit.
The new and improved accessory antenna system, Wi-Ex zBoost YX039, offers an improved look and better overall signal gain!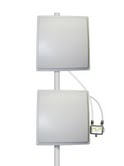 Specifications:
This directional antenna system captures signals in both 800 MHz Cellular &1900 MHz PCS bands for the use with zBoost dual-band amplifier systems.
Gain: 8dBi (824-896 MHz) 13dBi (1850-1990 MHz)
Impedance: 75ohms
UPC: 1866390006
Connectors: The two antennas are inputted to the signal combiner, which has an F/Female connector
Kit Contents:
YX021-CEL Cellular Panel Antenna (824-896 MHz)
YX023-PCS Panel Antenna (1850-1990 MHz)
2x 18″ coaxial jumper cablesAntenna combiner
2x U-Bolt and mounting brackets for pole mounting (pole not included)
Instruction manual