The new 815226 Wilson Sleek is a very price competitive vehicle Cell Phone Booster and can be used in your home /office with an optional accessory kit. It is designed to work best with the new smartphones like the Droid, My Touch and Nexus One or iPhone 3GS.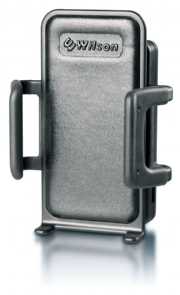 Wilson Electronics and Repeaterstore.com have started to ship this versatile new cell phone signal booster.
The reviews and initial response have been extremely favorable for the Sleek. It is a powerful yet portable signal amplifier that uses a cradle to hold your phone while you use a hands free device to converse.
The Wilson Electronics Sleek amplifier kit includes:
Sleek all in one cradle combo: amplifier/charger
Outside vehicle mini magnet-mount antenna
Cigarette lighter power adapter*
Installation guide
30-day, Questions Asked money-back guarantee
Limited one-year product warranty
*Use only with supplied cigarette lighter power supply
Features Include:
Reduces dropped calls, extends signal range, and increases data rates
Built in amplifier boosts signals to and from cell site
Up to 20 TIMES more output power to cell site when in a vehicle
Receives weak signals the phone alone may not
Built-in port for battery charging
Extends battery life - Amplifier enables phone to work at reduced power
Simplifies hands free operation
Installs in minutes - no special tools required
Package includes everything needed — plug-and-play
Attractive, compact design
Adjustable arms to fit most any phone
We also now have a complete list of specifications. The kit is dual band, 20dB gain with a standard 4 inch magnetic mount antenna and cigarette lighter adapter. The cradle unit weighs an impressively light 2.5 oz!
Specifications:
Product Reference
815226 Wilson Sleek
Frequency:
US Cellular 800/850 MHz BandUplink: 824 - 849 MHz

Downlink: 869 - 894 MHz

US PCS 1900 MHz Band

Uplink: 1850 - 1910 MHz

Downlink: 1930 - 1990 MHz

Gain (up/down):
20dB / 20dB
Max Power Output:
2W
Noise Figure (down):
3.0dB Nominal
Flatness:
± 4dB
Isolation:
> 40dB
Power Requirements:
5V
Connectors:
SMA Female
Dimensions:
2.25? x 4.25? x 2.5?
Weight:
2.5 oz