The Wilson 801247 Signalboost DT is a dual band amplifier kit designed for home/office use. The kit is a full repeater kit, and can provide 1-2 rooms of coverage.
The Wilson Signalboost DT, designed as a cost effective, dual-band desktop solution, has been upgraded with a higher performing directional antenna! This new antenna (#301208) is a small,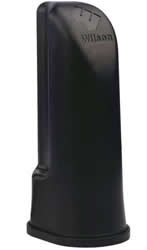 sharp looking desktop antenna that offers better performance than the previous whip antenna.
This new directional antenna is now shipping on all Signalboost Desktop DT amplifier kits.
We've tested it and it works well with AT&T, Verizon, Sprint and TMobile as well as Alltel and US Cellular.
If there is a need for a Repeater more powerful than room size coverage, please see the Wilson 801245 SOHO Dual Band Kit under our 'Small Building'  tab or the  Wilson 801262 Dual Band DB Pro under our 'Large Building' tab.