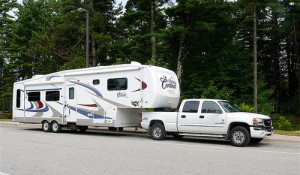 A Recreational Vehicle on the move can have significant cell reception problems depending on the location its traveling in. A good way to minimize dropped calls & increase reception to cellular phones / broadband data cards is to install a Cellular Repeater Kit in the coach.
A Cellular Repeater Kit will allow you to make calls when very little cell phone signal exists. This booster will also reduce dropped calls and increase internet speeds. We have had good success with Wilson Electronics Repeater kits customized for use in Motorhomes & RVs.
Wilson Electronics is well regarded in the industry because of their high quality.
Cell Phone Boosters or Repeaters are very simple to setup and they do not require expert installation. A Repeater kit consists of 3 major components; an external antenna, an amplifier or booster and an internal antenna that gives cellular coverage inside the RV.
Kits can range from $300 for a single-phone style amp to $600 for a more powerful amp that can support multiple cell phones and/or broadband data cards. A few of these kits are listed below.