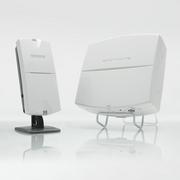 The Spotwave Z1900 is a new addition to the range of cell phone amplifiers we stock at the RepeaterStore. The Spotwave Z1900 is a stylish wireless cell phone repeater that operates on the 1900 MHz frequency band. This means it will be able to boost your cell phone reception from a weak signal to a strong and reliable one for Networks operating on the 1900 MHz Frequency band.
News Flash >> Starting Today, August 1st '07 the Spotwave Z1900 has taken a permanent price cut to $299 following the success of the temporary $100 discount that has been operating for the past month.
With a system gain of +63 dB the Spotwave Z1900 is one of the stronger amplifiers in its price range. The amplifier also features a modern and attractive design so you won't want to hide it away in the corner of the room. The Spotwave Z1900 comes as a full repeater kit with everything you need to improve your cell phone recelption, including antennas, cables, power supply, mounting equipment and of course the Z1900 amplifier.
Networks operating on the 1900 MHz frequency band include Sprint and T-mobile. In addition to this, Verizon and Cingular operate the majority of their 3G data services on 1900 MHz, so the Spotwave Z1900 should improve the performance of 3G data cards operating on the Cingular or Verizon network. However, Cingular and Verizon only use the 1900 MHz for voice coverage in a small amount of areas. For more information on Cellular Network Frequency usage visit our cell phone repeater buyer guide, or contact us.
Buy it now or find out more on the Spotwave Z1900 product page – click here.